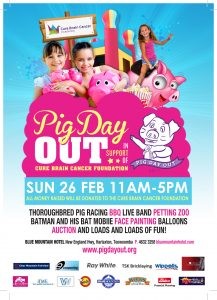 Ray White Toowoomba are proud to be a part of Pig Day Out this year!!
What is Pig Day Out?
Pig Day Out is a family fun day supporting the Cure Brain Cancer Foundation and is going to be a day to remember!
Like all cancers and diseases it is so horrible watching your loved one go. Brain cancer receives the least government funding even though its taking more children in Australia than any other disease. It is taking our loved ones in their prime than any other cancer.
This event will help raise important funds for critical research and ultimately increase the life of our loved ones.
Entry is $5pp or $20 per family with the following fun activities –
· Toowoomba's own LODI will be playing on the day
· Real live piggies racing with sweeps available and winner will take home $50 cash and meat or fruit tray
· Free animal farm
· Free jumping castle
· BBQ/Face Painting/Balloons/Photo with batman in his Batmobile/Snow cones/Fairy floss – Donation
The day will conclude with an auction:
· 4 x 21 day consecutive pass at the Theme parks
· 1 x 30 minute joyride in the Batmobile
· 1 x 30 minute joyride in the Batmobile
· Framed signed Wally Lewis Jersey
So if pig racing, live band, animal farm, bbq, batman, face painting, balloons and your chance to win a joy ride in the batmobile, family pass to the theme parks or a signed Wally Lewis jersey then we can't wait to see you there!!!!